SPENN Technology A/S Signs Agreement with THE MINISTRY OF ICT AND INNOVATION of the Republic of Rwanda to drive financial inclusion and empower Rwandan communities including educators, students, and health care personnel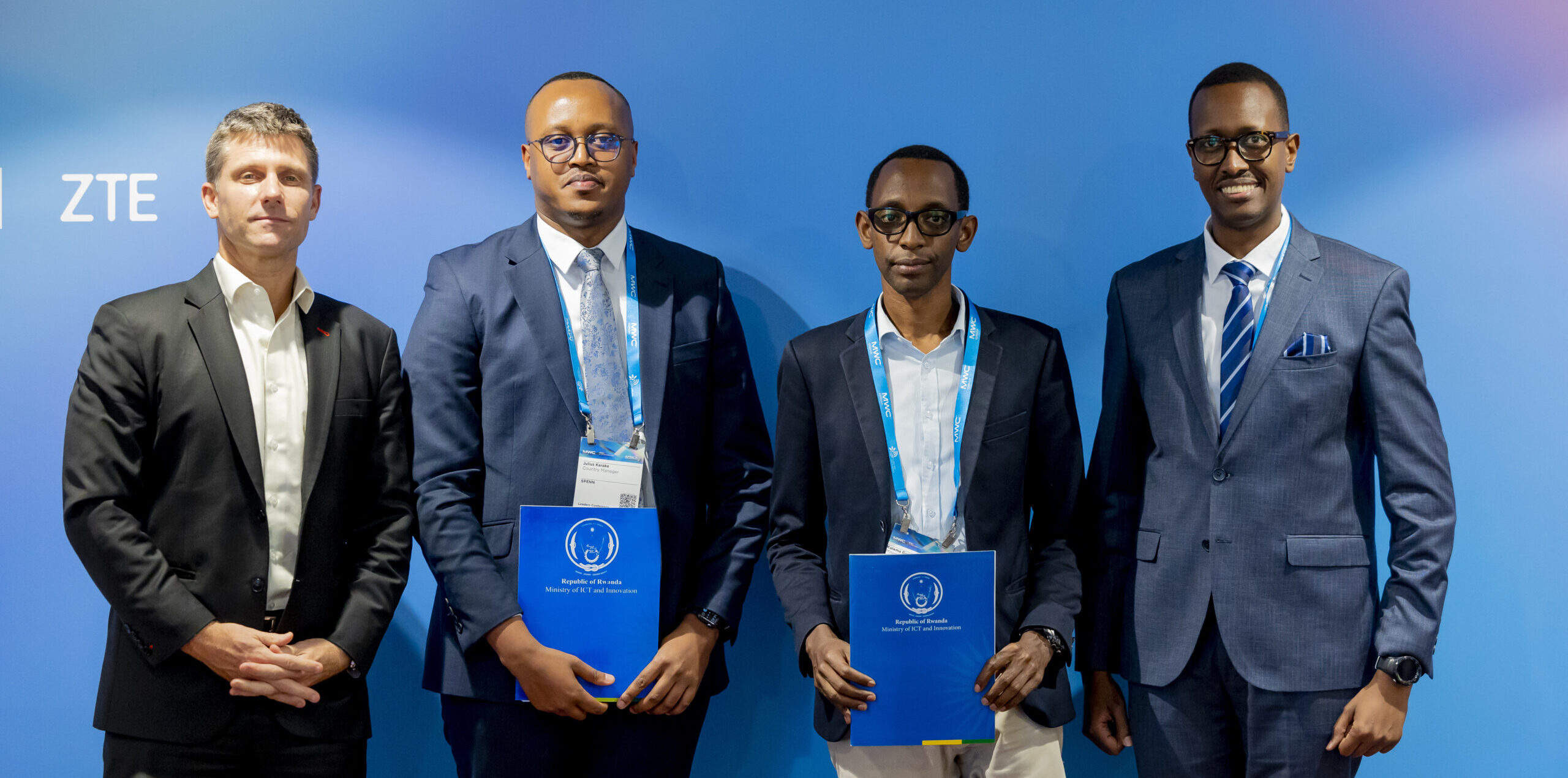 From left to right: Mitchell DeYoung (Chief Product Officer, SPENN), Julius Karake (Country Manager, SPENN Rwanda),
Antoine Sebera (Chief Innovation Officer, Rwanda Information Society Authority),
Kundimana Antonine (Senior Technologist, MINIC)
Copenhagen, 18.10.2023 – SPENN, a leading financial technology solution provider offering financial services to customers and businesses, and MINICT (the Ministry of ICT and Innovation), a public institution dedicated to promoting economic growth and poverty reduction through technology and innovation, have officially entered into an Agreement to enhance financial inclusion and opportunities in Rwanda.
Investor News 12/23
The Agreement, signed today, signifies the commitment of both parties to work together in achieving the common goal of improving financial stability and the well-being of key communities as per need in Rwanda. This partnership will leverage SPENN's innovative financial technology and MINICT's mission to drive economic growth through information technology, communication, and innovation policies.
This agreement is a game-changer for SPENN, marking a pivotal moment in the company's history. It is poised to drive substantial revenue growth by facilitating the efficient disbursement of governmental funds, a mission that resonates deeply with SPENN's core values. At full scale, the value of this agreement is anticipated to propel the earnings into positive profit on a group level of SPENN technology A/S, enhancing its financial stability and sustainability.
Jens Glaso, CEO at SPENN, commented, "We are excited to partner with MINICT to advance financial inclusion and empower communities in Rwanda. This Agreement sets the stage for meaningful collaborations that will create positive economic impact and drive innovation in the country."
Honorable Paula Ingabire, Minister of ICT stated, "This partnership reflects our dedication to leveraging technology and innovation to enhance economic growth and reduce poverty in Rwanda. Together with SPENN, we will work towards achieving our mission and improving financial opportunities for all Rwandans."
Scope of the Agreement:
1. Empowering Educators and Teachers: SPENN will collaborate with the Ministry ICT and other government institutions in line of education in line of education and to uplift the socio-economic welfare and enhance the financial stability of educators and teachers in Rwanda. This collaboration will include tailored financial products, loan disbursements, and financial literacy training programs for health workers as well.
2. Enhancing Bursary Disbursement: SPENN will partner with the Development Bank of Rwanda (BRD) to integrate with the MINUZA platform, facilitating bursary disbursement and repayments to University of Rwanda students within and outside Rwanda. BRD will utilize SPENN's credit scoring algorithm to improve loan repayment rates and ensure efficient fund disbursement.
3. Financial Tools for Health Post Personnel: SPENN will seek collaboration with the Society for Family Health (SFH) to provide access to financial tools for health post personnel, including operators and managers of health posts managed by SFH.
4. Rwanda Community Abroad Support: SPENN is dedicated to supporting the Rwandan diaspora by enabling free-of-charge remittances from Nordic banks to Rwanda. This initiative aims to alleviate Rwandan franc depreciation and promote financial activity and investment within Rwanda.
5. Multi-Currency Wallet: SPENN Rwanda plans to introduce a multi-currency wallet, enabling users to hold different currencies in one wallet, facilitating seamless and cost-effective cross-border transactions between African countries.
Both parties are committed to exploring additional mutually beneficial projects that drives financial literacy and accessibility to the digital economy, aligning with their vision to make financial services accessible for everyone as per need.
As part of this important strategic move, SPENN's management is diligently assessing its current operations to align them more closely with the focus on governmental disbursement. This shift reflects SPENN's dedication to optimizing its operations and capitalizing on the tremendous potential within this sector.
To bolster this transformation, SPENN is placing a strong emphasis on cost efficiency. The management is rigorously focusing on cost reduction to ensure that resources are allocated judiciously, thereby minimizing expenditure associated with implementing this project. This disciplined approach is expected to position SPENN favorably, primarily through the generation of float fees resulting from the governmental disbursement process.
SPENN remains steadfast in its commitment to financial innovation and inclusion. This strategic shift is a testament to our unwavering dedication to not only deliver value to our stakeholders but also to contribute meaningfully to the economic development and well-being of the communities we serve.
The Parties have concluded the general terms of cooperation.
About MINICT
The Ministry of ICT and Innovation (MINICT) is a public institution in Rwanda with a mission to address national priorities for economic growth and poverty reduction through the development and coordination of national information technology, communication, and innovation policies and programs, as well as citizen empowerment.
For media inquiries or further information, please contact:
Jens B. Glaso, CEO SPENN Technology A/S. Phone +47 40 40 47 50
Certified Adviser: Baker Tilly Corporate Finance P/S, Att.: Gert Mortensen, Partner. Phone: +45 33 45 10 00, www.bakertilly.dk
SPENN Technology A/S
CVR nr.: 26518199
Njalsgade 76, 4.
2300 København S
Tel: +45 8830 0000
About SPENN Technology A/S
In a world where 1.7 billion people are still unbanked, SPENN Technology has democratized access to financial markets by bridging the crypto sphere with traditional finance. By utilizing blockchain technology Blockbonds has created a robust real-time payment system in which everyone can manage their savings, payments, investments and loans in an honest, transparent and secure way through the SPENN App platform. Although SPENN Technology A/S is a purpose-driven company with our vision to empower people, we are also a commercial player that always strives to develop new services for our customers.
The SPENN app is an innovative and unique digital banking platform for the unbanked as well as the banked to be able to send and receive money completely cost-free, in markets where the cost of financial services is the highest in the world. SPENN is disrupting the existing mobile payment distribution channels. SPENN has recently launched new integrated services in the platform and expects to launch more crypto services going forward.
SPENN is a technology provider to banks and governments based on a Software as a Service (SaaS) solution and has grown to become a key partner for their bank partners to drive deposits and to stay in front of innovation. SPENN is helping governments regulate the unregulated utilizing new technology and visionary ideas which have ultimately solved the biggest issue within financial inclusion.
SPENN Technology A/S is listed on the Nasdaq First North Growth Market Denmark and on OTCQX in USA.
Ticker codes:
Europe – Nasdaq First North: SPENN
USA – OTCQX: SPNNF